An open-source software for teachers
Compilation settings
In this tab, you can set-up how LaTeX is run in the background. There are a few default settings, and you should probably use one of them. If you want to use pdflatex then I strongly suggest that you use the "Default (pdflatex)" config. If you prefer using LaTeX, you can go for the "Alternative (latex)" config.
If your computer is (very) old then you can try out the "Old computer (dvi no okular)" config, which was the default config in older versions. If you do so, then your exercises will be compiled using the preview package which can be a pain sometimes and not work with recent packages. TeXamator was created in 2008 when this feature had sense : it makes the process of previewing of an exercise sheet very fast but there are too many drawbacks to keep using it if your computer is not a dinosaur.
You can customize the compilation sequence to suit your needs. TeXamator creates a folder /tmp/partielator and a file file.tex in that folder. In the compilation sequences, !file is a shortcut for /tmp/partielator/file.tex but you shouldn't worry about that as TeXamator will chdir to /tmp/partielator for you, so you can write simple commands like pdflatex file.tex.
For example, if you need to run LaTeX, then dvi2ps and then ps2pdf, you can use this sequence:
latex file.tex
dvi2ps file.tex
ps2pdf file.ps

Or, if you want to ignore compilation errors, you can use
latex -interaction=nonstopmode file.tex

You can create as many configurations as you want but cannot edit the ones shipped with the program. When exporting your work to a pdf file, you will be asked for the compilation sequence you want to use: this is the place to create a custom one for exportation (if needed). For example, when exporting a pdf, you might want to run pdflatex twice to get references right.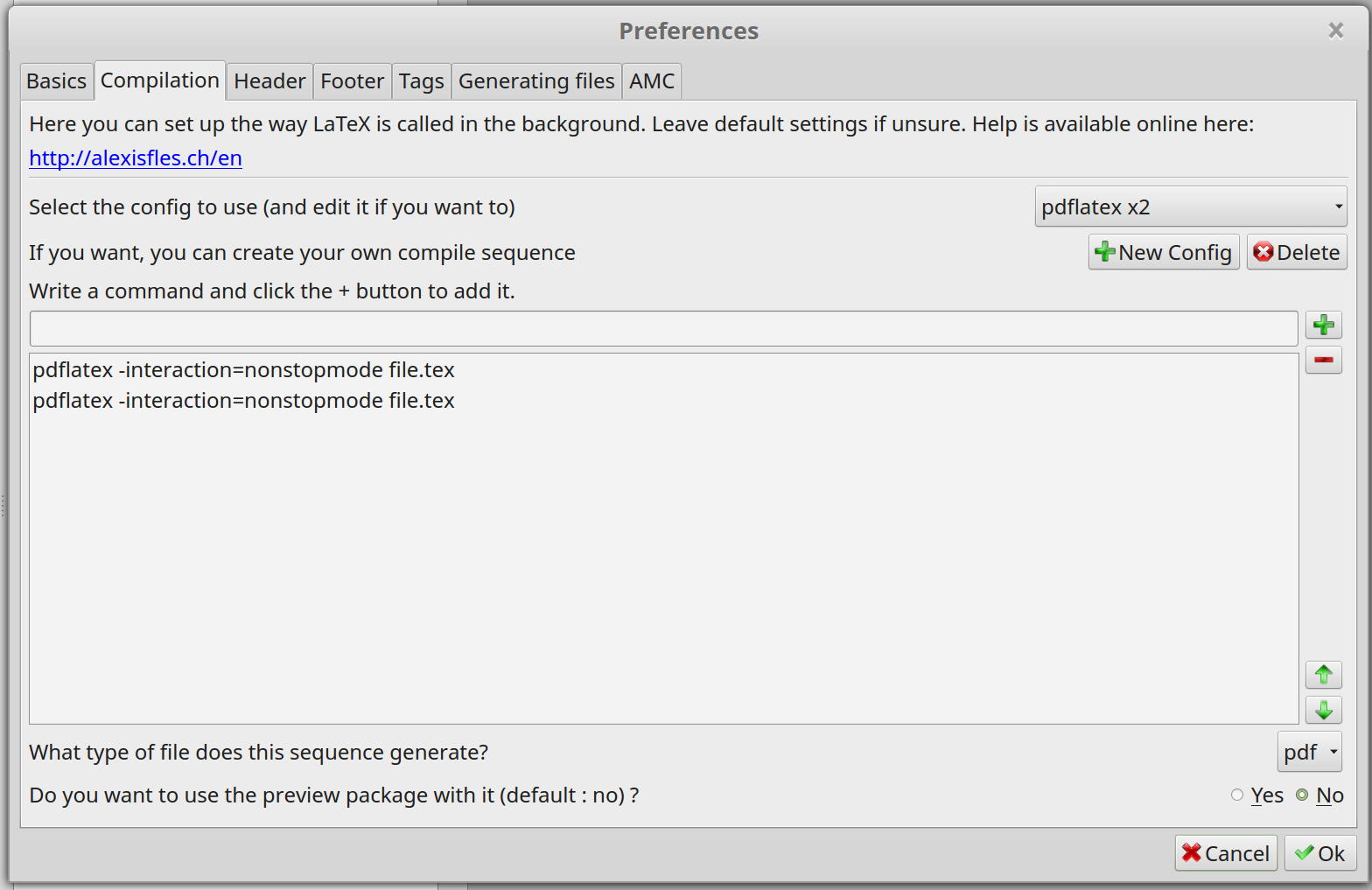 TeXamator
Contact me